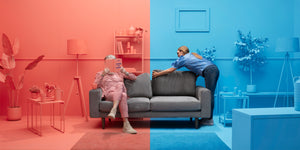 Assembly Instructions
Easy to assemble, easy to love. No tools required.
All of our sofas are easy to assemble and can be put together in four steps, in no time at all. You don't need any tools as everything simply slots together. No matter what Hutch Sofa you have, the step by step process below will work exactly the same. However if you have a Corner Sofa you will have to repeat each stage of the process for each section of the Sofa. If you require a detailed breakdown for assembly specific to your Sofa, click this link to view the Assembly Instructions.



Step One
Screw the legs clockwise into the platform of the
sofa. Make sure each leg is firmly fixed in
position before standing up.
Step Two
Slide both arms into the guided fittings. Align
the 'male' plastic fixings on the arms with the
'female' metal fixings on the platform. Once in
position, firmly push down into place.

Step Three
Drop the back rest into place. Align the fixings
together, keeping the back rest level. At the
same time, apply pressure inwards to the arms
and fix into place.

Step Four
Finally, add the cushions for total comfort.
Time now to put you feet up.
Matching Footstool anyone?